In Memory
Chris Lively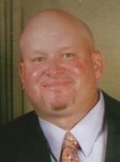 Chris Lee Lively

MOORINGSPORT, LA - Chris Lee Lively, age 48, of Mooringsport, LA passed away Tuesday, October 4, 2011. A memorial service will be held at 3 PM Saturday, October 8, 2011 at Gorsulowsky Funeral Home in Vivian, LA officiated by Rev. John Harp. The family will meet for visitation from 2 - 3 PM on Saturday at the funeral home.

Chris was born November 17, 1962 in Evansville, IN to John David Lively and Nancy Jo Bailey Lively. He has lived in this area since 1979 after moving from Chicago. He worked for Waterworks Irrigation as a sprinkler installer. He enjoyed hunting, fishing, gardening and grilling, but his love for working was his main hobby.

Chris was preceded in death by his father, John Lively. He is survived by his children; Quinton Lively and Alison Lively, his granddaughter, Madelyn Lively, his former wife, Terri Lively, his mother, Nancy Longenecker, his sister Jackie Lynn, brother David Lively, his half-sister Johnance Lively, his half-brothers; Patrick Lively, Johnathan Lively and Jacob Lively, and his family dog Jo-Jo.

In lieu of flowers please make donations to the American Cancer Society.