In Memory
Danny Talley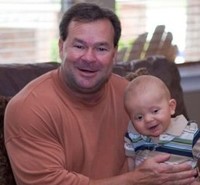 Daniel Jay Talley
HOUSTON, TEXAS - Daniel Jay Talley, 48, passed away on April 22, 2012 in Houston, TX. Danny was born in Shreveport, LA and attended Captain Shreve High School, Centenary College of Louisiana, where he was a member of Kappa Sigma Fraternity, and The Colorado School of Mines in Golden, CO. He was a geophysicist with Tri-C Resources in Houston.

Danny was preceded in death by his father, Dan J. Talley and his mother, Darlene Hartfelder Talley. He is survived by his wife, Kim Talley, and son, Daniel Grey Talley, both of Houston, TX; his brother, Christopher Talley of Chelsea, AL; his sisters, Suzie Talley of Morrisville, NC and Sherri Talley of Shreveport, LA; and stepmother Bonnie Talley of Shreveport, LA.

Visitation will be Thursday, April 26 from 5 p.m. to 8 p.m. at Klein Funeral Home in Tomball, TX. A memorial service will be held Friday, April 27 at 10 a.m. at Klein Funeral Home.

In lieu of flowers, the family suggests donations be made to CFC International, 183 Brown Road, Vestal, NY 13850, cfcsyndrome.org.

Published in Shreveport Times on April 26, 2012